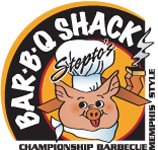 Mike Stepto's Bar-B-Q Shack in Evansville , Indiana has some great food.   You can't drive bye his location without the smell of Memphis Style Barbecue trying to seduce you off into his parking lot.   One of the things Mike wanted to do was to grow his catering business, but wanted to make sure that diverting his marketing dollars didn't cost him any of his restaurant business.   Mike got the idea from another restaurant owner out of town that would make this possible. Mike sent out a direct mail piece to local businesses that said:
   "You've won a FREE lunch for 10 people in your office"
 When you turned the card over, it said that the first 20 companies that called would get the free lunch and then it supplied the phone number.   He even listed a "The Catch" section at the bottom, because in the world of hype we live in, everyone is looking for the catch.   It said:
Only the first 20 companies will get a Free lunch for 10.   I'm mailing this to only a few businesses and I want to be able to personally drop it off and say hello.
Think of Stepto's BBQ Shack first for your next event – That's it!
My company took Mike up on his offer and brought lunch in the following Monday for the office staff.   Not only did we have a fantastic lunch, I had a few minutes to talk with Mike Stepto, who did exactly as he said and delivered it himself.  
Mike won in a few ways that day.   One is that our company will consider Stepto's BBQ Shack next time we have an event.   They weren't even on the table as an option prior to that day.   Our company now knows Mike Stepto on a first name basis, and that can never hurt.  
But it had another effect, one that I know Mike intended.   The 10 people who had lunch remembered how great Stepto's was and that they hadn't been there in a while.   I guess they could have watched a commercial and had the same thought, but they were actually chomping down on one of his brisket sandwiches.  
Action Summary:
Mike Stepto was able to reach 20 businesses in town.
Those businesses enjoyed a free lunch.
Those employees were reminded how much they loved the food.
So for the cost of 50 or so direct mail pieces and food cost, Mike put his BBQ company on the map for events and had 200 people sampling his product.  
Can your company copy this technique to grow your business?