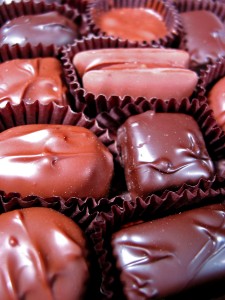 Belgium is known as the king of chocolates country. For centuries, they have exported fine chocolate throughout the world. But one chocolate stands out even in Belgium: Godiva. From New York to Paris to Tokyo, it is Godiva that brings the best of Belgium to the world.
In 1926, Joseph Draps opened a chocolate shop on a cobblestone street in Brussels, Belgium and named it Godiva. Draps perfected a unique formula of "rich chocolate with unparalleled smoothness." Because of the rich taste, elegant designs and beautiful packaging, Godiva became an instant hit and Draps positioned Godiva as luxury chocolate.  Since its humble beginnings in 1926, Godiva has grown a lot and has outlets around the world. It has more than 1,000 outlets in America itself.
Godiva conducts researches every so often to gauge the taste of the diverse public. In one such research, people were asked to choose from a variety of Godiva chocolates in two different outlets. In one outlet, a group was offered 6 choices and in another, a group was offered 30 choices. Surprisingly, those who had more choices found their selections to be less tasty, less enjoyable, and less satisfying than did those who were given limited choices.
 Action summary:
There were hundreds of chocolate shops in Belgium similar to the one Joseph Draps opened. Yet Godiva prospered.
Godiva was positioned as the premium chocolate.
Position your product for the higher end market and even though you receive a lower number of sales, you will earn more.
Limit choices to increase perception of value.