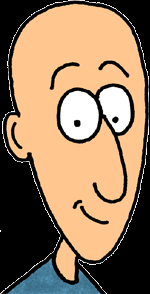 Gary has a good life. He lives in a small town in California and owns an insurance agency. When he turned 50 and decided to open a restaurant and nightclub. Life was perfect. Except for one thing: he was bald.  Gary didn't let his baldness ruin his perfect life score. He instead used it as an opportunity. He changed the world and made baldness trendy.
Gary waited a few weeks to see how his restaurant did on different days of the week. He found out that Wednesdays were the slowest days. Gary then started a Wednesday promotion: "Bald people eat free on Wednesdays!"
A totally hairless head will fetch a diner a completely free meal. Diners with less than 50 percent of their hair get up to 50 percent off their food. It didn't matter if diners went bald naturally or shaved off their heads. Diners paid according to the amount of hair on their heads on Wednesdays.
The news of "Bald eat free on Wednesdays" reached far and wide. Gary's uptown restaurant and bar has received tons of free publicity because of the promotional tactic. The restaurant was featured in newspapers published in as far away places as London.
This eat-free promotional tactic doubled the business on Wednesdays and converted it from one of the slowest days into one of the fastest.  "We haven't had a single bald guy dine alone. One hairless fellow brought five women with him," said Arnold.
Action summary:
 °    You could start such a promotion too. Select a group of people you want to reward.
 °    And then make a special offer to them.
 °    For eg: Baby boomers can have 5% off on Tuesdays. Government employees can receive a free goodie.
 °    Then announce the offer through press releases and advertising